The Johnson County War Tour on August 12, 2023 allows attendees to travel by bus the approximate route of the "Invaders" in their fateful attack on the "Rustlers" in April 1892, learning about the war and stopping at various sites of historical significance along the way.
Stops include the KC Cabin Fight site, where Nate Champion made a heroic stand against overwhelming odds, Plunkett's Horse Ranch where the Invaders changed horses, the Smith homestead site where a near ambush of the Invaders almost occurred, the historic 28 Ranch where Invaders rested their horses, and the TA Ranch where the final battle occurred. The tour will also stop at the assassination sit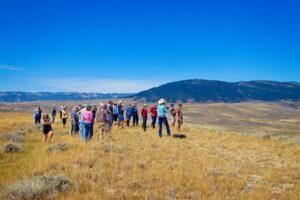 es of John. A. Tisdale and Ranger Jones, whose murders occurred in the months leading up to the war, foreshadowing the events of 1892.
The historical guides narrating the journey are John W. Davis and Brock Hanson. Davis is a lawyer and author of "Wyoming Range War" which relates the Johnson County War from a legal vantage using a large number of public documents from the period. Brock Hanson is a 4th generation local historian whose family lived through the war and documented the historic events with interviews of the various people involved in the war.
The tour will be held on August 12, 2023 beginning in Kaycee at 9:00 AM (with an AM check-in time of 8:30 AM) and ends at approximately 4:00 PM. Lunch is included the ticket price of $100, which must be purchased in advance due to limited space on the bus.
Questions about the tour? Please contact us at 307-738-2381 or [email protected]
The 2023 Johnson County War tour is full.
The 2024 Tour will be available for registration in January 2024. If you would like to be notified of the opening of tour registration, please complete the Tour Notification Form
Please note: Dogs are not allowed on the tour for any reason.