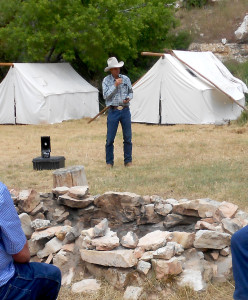 The museum's annual fundraising Hole in the Wall tour was a great success with 81 attendees. The weather was ideal, with just missing the rain earlier in the week and not too hot on the day of the event.
We could not have the tour without the time and dedication of our tour historical guides. Bill Betensen, author of Butch Cassidy My Uncle, was the main speaker with a variety of unique stories regarding Butch Cassidy told from the vantage point of his familial relation to the famous outlaw. Colin Taylor, who grew up in the Hole in the Wall area and has studied its history extensively, was also a speaker. Local Dwayne Christensen told the stories of Alex Ghent related to him by Jim Dillinger, who knew the man. Brock Hanson, another local historian told a variety of local history documented by his grandfather.
The museum is grateful for the assistance of the many local volunteers who make the event a success every year.
Fall 2015 Johnson County War tour date to be announced soon!